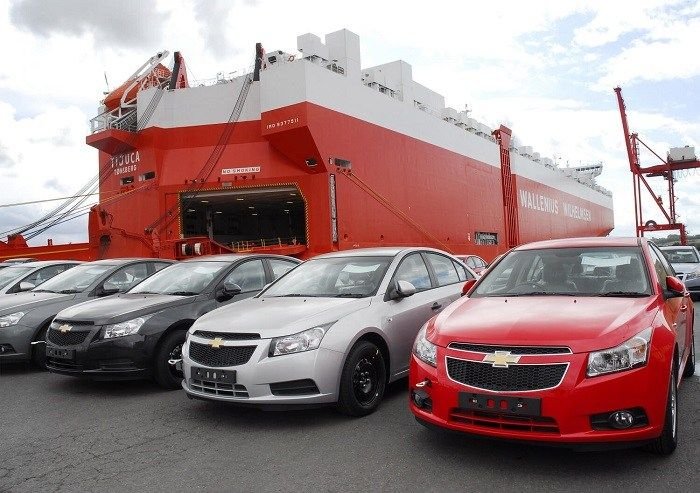 Shipping a Truck to Namibia
We offer an efficient service with very competitive rates for Truck shipping to Namibia. We can offer shipping of tractor units, trailer stacks and trucks by:
RoRo – Roll on Roll off Shipping:
RoRo ships are specifically designed to carry Trucks under deck and are not exposed to any external elements such as water. The tractor units and trailer stacks are secured and lashed to the floor of the ship to prevent any movement during transit.
20 FT or 40FT containerised shipping:
Trucks and their parts are lashed and secured onto open top flat rack containers to prevent any movement during transit

Shipping Schedule to Namibia
| Vessel Name | Closing Date | Estimated Time of Arrival |
| --- | --- | --- |
| Emerald Ace | 11/01/2022 | 03/02/2022 |
| Golden Karoo | 12/01/2022 | 10/02/2022 |
| Emerald Ace | 11/01/2022 | 03/02/2022 |
| Silver Ray | 24/01/2022 | 27/02/2022 |
| Glovis Challenge | 22/01/2022 | 01/03/2022 |
| Glovis Challenge | 28/01/2022 | 01/03/2022 |
Why Simba Shipping
Just a few reasons to choose us, experience vehicle shipping at its best.
Amazing Prices
We offer the best shipping prices and further offer a price match service should you get a better rate.
Exceptional Service
We love our customers and pride ourselves on offering the best customer experience.
Shipping Knowledge
Our team possesses years of experience in the shipping world ensuring we offer the best solution for your shipments.
Technology Investment
We love technology and use it to give our customers the best shipping experience.
Ethical Business Practice
We take great pride in being an ethical business and ensuring our customers come first at all times
Simba Shipping can ship high and heavy rolling cargo to Walvis Bay, Namibia. This covers everything from trucks, vans and minibuses to tractors and stacks of trailers, so please feel free to contact us with the dimensions and weight of the unit you would like to ship and we will get back to you with a rate. Please note that the dimensions and weight must be the overall measurements of the unit, so if you have stacks of trailers or a loaded truck and trailer then this should be reflected accurately to us as the rates are subject to final measurement of the unit at the port. We won't be able to quote for you unless this information has been supplied to us. If the vehicle does have things loaded inside it, please let us know so we can check the rate for you as a loaded surcharge may apply. Also, should a unit be loaded, everything should be securely lashed to the main body of the vehicle for safe transit to Walvis Bay. This is at the shipper's own risk and expense but final approval for shipment is at the Shipping Line's discretion.
More Information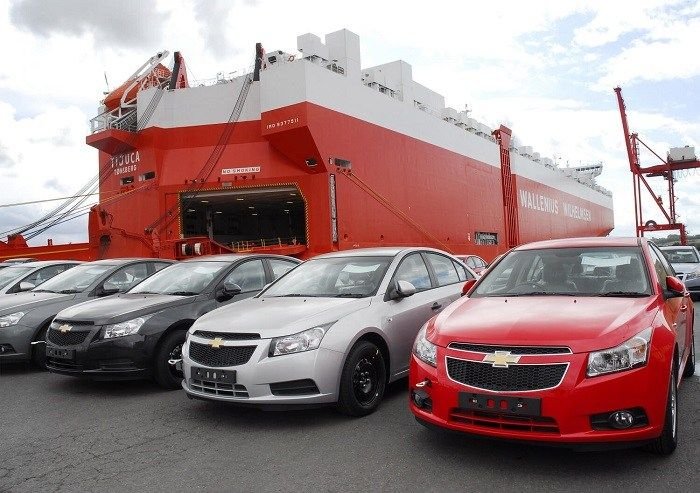 Transit Time
RoRo Shipping Transit times to Walvis Bay from the UK is generally 18 Days
Container Transit time to Walvis Bay from the UK is generally 30 Days
Sailing Frequency
For RoRo, we generally have two vessels every month
For Container, we have a weekly sailing.
Loading Ports:
For Walvis Bay, we offer shipments from Sheerness and Killingholme ports in the UK.
For Container Shipments, we offer loading from Felixstowe Port
Destination Agent:
We are able to assist in clearance and on-transit carriage in Walvis Bay saving you the hassle of travelling to Walvis Bay