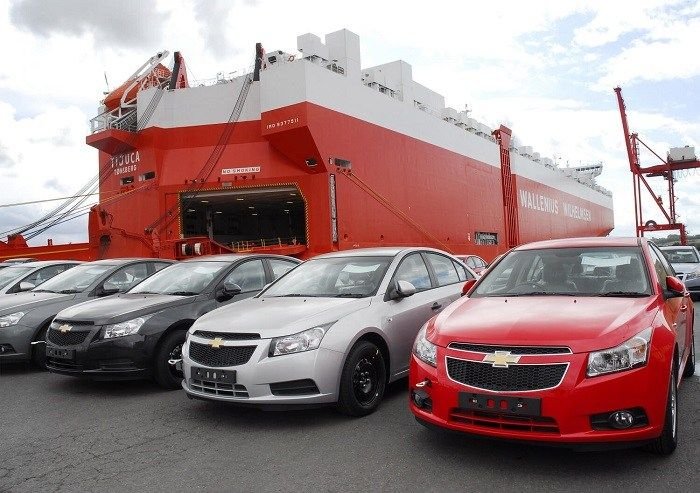 Shipping Machinery to Namibia
We offer an efficient service with very competitive rates for shipping machinery to Namibia. We can offer shipping of machinery by:
RoRo – Roll on Roll off Shipping:
Ships specifically designed to carry machinery under deck and are not exposed to any external elements. Machinery is secured and lashed to prevent any movement during transit.
20 FT or 40FT containerised shipping:
Machinery is loaded and secured in the container to prevent any movement during transit. Containers are loaded to only carry your machinery and are only opened once they reach the destination port

Shipping Schedule to Namibia
| Vessel Name | Closing Date | Estimated Time of Arrival |
| --- | --- | --- |
| Emerald Ace | 11/01/2022 | 03/02/2022 |
| Golden Karoo | 12/01/2022 | 10/02/2022 |
| Emerald Ace | 11/01/2022 | 03/02/2022 |
| Silver Ray | 24/01/2022 | 27/02/2022 |
| Glovis Challenge | 22/01/2022 | 01/03/2022 |
| Glovis Challenge | 28/01/2022 | 01/03/2022 |
Why Simba Shipping
Just a few reasons to choose us, experience vehicle shipping at its best.
Amazing Prices
We offer the best shipping prices and further offer a price match service should you get a better rate.
Exceptional Service
We love our customers and pride ourselves on offering the best customer experience.
Shipping Knowledge
Our team possesses years of experience in the shipping world ensuring we offer the best solution for your shipments.
Technology Investment
We love technology and use it to give our customers the best shipping experience.
Ethical Business Practice
We take great pride in being an ethical business and ensuring our customers come first at all times
We have a regular service to Walvis Bay, from Sheerness port in Kent, and we can arrange for any wheeled (rolling) machinery to be shipped to Walvis Bay, Namibia for you. In order for us to provide you with a quote, we will need to have the length, width and height of your machinery, as well as the weight. Please ensure these dimensions are accurate as the price given is heavily dependent on this information. We will not be able to quote without being this information being provided to us at the time of enquiry. We may also be able to ship your machinery from Immingham if that is preferable, subject to schedule, so just let us know what your plans and preferences are and we will try to accommodate them as best we can.
Once your machine has been shipped, we will keep you informed of the latest ETA of the vessel into Walvis Bay, so that you can arrange the timely collection of your cargo once it has arrived and cleared in Namibia. We can also recommend a clearing agent in Walvis Bay to help you make things go more smoothly, should you not have anyone in mind for the job already. If you have any questions regarding your machinery and shipment, please get in touch and talk it through with us and we will do our best to answer any queries you have.