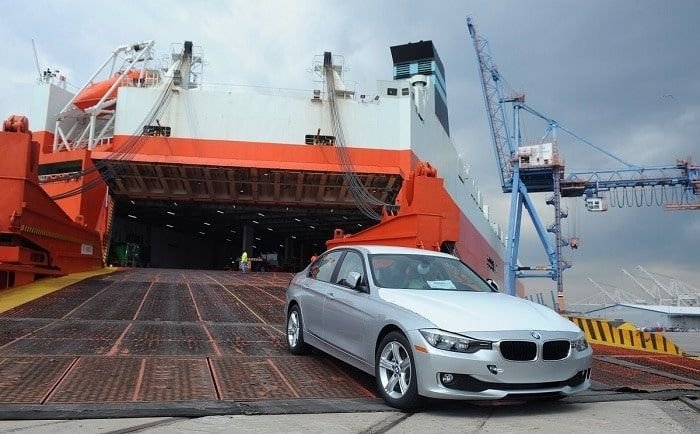 Shipping to Zambia via Walvis Bay, Dar Es Salaam or Durban Port
We offer shipping of cars to Walvis Bay and onwards delivery to Kazungula Border from the UK. We pride ourselves in offering a hassle free shipping solution and offering the best prices for shipping.
For those looking to ship to Dar Es Salaam, we would also be happy to provide this option as well as help you arrange on clearance.
For those looking to ship via Durban, we can further offer an on clearance option.
Although RoRo shipping is a cheaper method for shipment, we also would be happy to offer shipment via Container through to Lusaka which is more pricey however a good option for high end cars.

Shipping Schedule to Zambia
| Vessel Name | Closing Date | Estimated Time of Arrival |
| --- | --- | --- |
| RCC Compass | 17/10/2022 | 25/11/2022 |
Why Simba Shipping
Just a few reasons to choose us, experience vehicle shipping at its best.
Amazing Prices
We offer the best shipping prices and further offer a price match service should you get a better rate.
Exceptional Service
We love our customers and pride ourselves on offering the best customer experience.
Shipping Knowledge
Our team possesses years of experience in the shipping world ensuring we offer the best solution for your shipments.
Technology Investment
We love technology and use it to give our customers the best shipping experience.
Ethical Business Practice
We take great pride in being an ethical business and ensuring our customers come first at all times
Transit Time:
Transit times to Walvis Bay from the UK is generally 18 Days
Transit time to Dar Es Salaam from the UK is generally 28 Days
Transit time to Durban from the UK is generally 22 Days.
Loading Ports:
For Walvis Bay, we offer shipments from Sheerness and Teesport ports in the UK.
For Dar Es Salaam, we offer shipments from Tilbury, Sheerness, Immingham and Southampton Ports.
For Durban, we offer shipments from Southampton Port.
If going via Container, we load from Ipswitch Port.
Cargo Types Handled:
We are able to offer shipment of Vehicles, Trucks, Machinery and any type of wheeled cargo to Zambia from the UK.
Pre Shipment Inspection:
Vehicles going to Zambia require a JEVIC inspection and we are able to assist with this.
Shipping Price to Zambia
Destination Country (Port)
RoRo Saloon
RoRo 4x4
20FT
40FT
Get in Touch, for an update

More Information
How to Ship Your Car to Zambia from the UK
Shipping of your car to Zambia is quite straightforward, please fill out our booking form with the details of the vehicle as well as your details and the details of the person receiving the car. Once these details have been received by us we are able to prepare the paperwork and arrange the booking for you to ship the vehicle.
We will prepare a shipping note which is what will be needed to arrange delivery of the vehicle to the port or loading yard. It is important that you wear a high viz jacket so that you are allowed into the port.
Pre-Shipment Inspection
JEVIC have been appointed the inspection body for shipments to Zambia, and we would be happy to assist you in arranging this inspection on your behalf.
Can you load personal effects?
We dont recommend loading of valuable personal effects when shipping by RoRo as there are quite a few hands along the journey to the final discharge port. However should the vehicle be loaded into a container, then loading is not a problem as the container will be opened in the presence of your agent. Of course we do recommend finding out about the tax implication.
Vehicle Shipped – What's Next?
Once your vehicle is shipped we shall notify you, and furthermore you will be sent a draft Bill of Lading. It is critical that you check the details on the Draft Bill of Lading and ensure that everything is correct and complete.
The Bill of Lading is a really important document and its contents are critical in ensuring that you have a smooth release of your cargo at the discharge port.
Bill of Lading Approved – Telex Release or Original Bill of Lading?
You will often be asked by our documentation team whether you wish to arrange a Telex Release or require the Original Bill of Lading. What is the difference?
Telex Release: This is where a copy of the Bill of Lading will suffice to release the shipment as opposed to Original Bills of Lading which need to be presented for release of the shipment. With Telex release the original documents are surrendered and therefore the copy is sufficient.
Vessel Arrived – Whats Next?
Once the vessel arrives, your clearing agent will now handle all aspects for you. However if you are stuck on any aspect we are always willing you assist you.